GStreamer Conference 2023
25-26 September 2023 · A Coruña, Spain
We're back!
We're thrilled to announce that the 11th GStreamer Conference will place on Monday and Tuesday 25-26 September 2023 at the Palexco Convention Centre in A Coruña, Spain, followed by a hackfest.
Schedule
Click here for the conference schedule.
Live Streams
Details
The GStreamer Conference is a conference for developers, community members, decision-makers, industry partners, researchers, students and anyone else interested in the GStreamer multimedia framework or Open Source and cross-platform multimedia.
Who should attend?
Anyone interested in open source cross-platform multimedia is encouraged to join us at the GStreamer Conference 2023!
Whether you are a hobbyist, app developer, researcher or student interested in the field of multimedia, or working for a company that is using or looking to use GStreamer in their products, this is the perfect event for you to network at and to learn more about the latest technological developments and project news, and to meet developers as well as the wider community.
Registration
Sign up for the GStreamer Conference 2023 here
There will be separate registration options for both professionals and for students and hobbyists:
| | |
| --- | --- |
| Professional (Early Bird) | 250 EUR (ca. 280 USD) |
| Professional (Regular) | 350 EUR (ca. 390 USD) |
| Professional (Supporter) | 500 EUR (ca. 555 USD) |
| Speakers (for non-lightning talks) | Free |
| Student/Hobbyist | Free or voluntary donation |
All tickets include lunch at the venue on both conference days as well as access to the social event on Monday evening.
For those uncertain about whether to register as a professional or hobbyist, the general rule is that if your company pays for you or sponsors you, you are a professional, and if you personally pay you are a student or hobbyist. If in doubt drop us a mail or just register as hobbyist. The important thing is that you'll make it to the conference!
Sign up for the GStreamer Conference 2023 here
Schedule and speakers list
We have an exciting range of topics and speakers lined up for you again this year:
Lightning Talks:
Update of Four Years of V4L2 Support
Nicolas Dufresne, Collabora
WebCodecs in WebKit, with GStreamer!
Philippe Normand, Igalia
GStreamer Daemon Project Update
Miguel Taylor-Lopez, RidgeRun
Playing around with Artistic Style Transfer with GStreamer + NNStreamer
Hosang Lee, LG Electronics
libcamerasrc: Sensor Configuration and Enumeration
Umang Jain, IdeasOnBoard
3 milliseconds from Diaphragm to Diaphragm
Nirbheek Chauhan, Centricular
GstPipelineStudio version 0.3.0 is out!
Stéphane Cerveau, Igalia
GStreamer plugin in Rust on webOS OSE
Seungwook Cha, LG Electronics
Behind the GStreamer Conferences video archive
Florent Thiéry, Ubicast
GStreamer WebRTC: The Quadrennium Update
Matthew Waters, Centricular
...and more to come
Submit your lightning talk now!
Showcase or Lightning Talks
There will again be opportunities for short lightning talks for those who do not wish to present a full talk, but just want to showcase something they're working on, or present a problem or challenge they are facing or have solved, and that they think might be interesting for others to hear about.
Want to submit a ca. 5-minute mini-talk for our lightning talk/showcase event?
Please submit all lightning talks through the GStreamer Conference 2023 Talk Submission Portal.
You can log in using your existing freedesktop.org GitLab account if you have one or register a new account with the system.
There is no deadline for Lightning Talk submissions, slots will be allocated on a first-come first-serve basis.
Call for Papers
The call for papers is now closed.
Anyone who has submitted a talk proposal should receive an e-mail letting them know whether their proposal has been accepted in the coming days. Thank you to everyone who submitted a proposal.
Lightning talks may still be proposed, see below for more details.
Social Events
Sunday: Welcome drinks and/or food at Breen's Tavern
Join us for some drinks and/or food at The Breen's Tavern, Pr. de María Pita, 24, 15001 A Coruña, Spain:
Food and drinks will be available for purchase, credit cards should be accepted.
The venue will be open to the public as well, and there is no cloak room available.
Monday: Social Event with Food and Drinks at Tira do Playa
Our main social event will be on Monday at Tira do Playa from ca. 20.30 until late. Food and drinks will be provided (many thanks to our sponsors!), including vegetarian and vegan options.
How to get there from the Palexco Conference Centre:
on foot: should be a nice walk, ca. 20 minutes (1.5km)
by public transport: best to check Google Maps or other public transport apps. Barely worth it time-wise, but might save you some walking.
by taxi: should be a ca. 10-15 minute ride depending on traffic, perhaps 10-15 EUR or so (taxis will usually accept credit cards)
Please don't forget to bring your badge. (If you'd like to bring a +1 that's fine, but ideally please let us know beforehand so we can tell the caterers.)
We will have the entire venue to ourselves. There won't be a cloakroom where you can leave your jackets/bags and neither we nor the bar will take responsibility for any lost or damaged items, so you may want to drop off your gear at the hotel before you head there.
GStreamer hackfest
There will be a hackfest just after the conference, on Wednesday and Thursday 27-28 September 2023.
The hackfest venue will be Igalia's office at Bugallal Marchesi, 22, 1º, 15008 A Coruña, Galicia:
It will start in the morning from 10.00 onwards. For more information please see the wiki page.
Please add yourself to the wiki page if you plan on attending the hackfest, so we have a rough idea of the number of people to expect. Pop onto the #gstreamer IRC channel on OFTC if you don't have editing permissions for the wiki.
GStreamer hackfests are fairly informal affairs, people mostly just sit around, drink coffee, discuss things, ask questions, and hack on whatever they feel like. Everyone with an interest in GStreamer is welcome to attend the hackfest.
Sponsorship Opportunities
The GStreamer Conference 2023 is only possible thanks to the generous financial support from our sponsors.
For this year's sponsorship opportunities please refer to the sponsor brief (PDF) or get in touch.
Sponsorship proceeds are not only used to put on the conference and hackfests, but also support our extensive CI infrastructure.
City
This year's conference will take place in A Coruña, Galicia, Spain.
Getting there
By air to A Coruña (recommended): A Coruña Airport (LCG) is connected to Geneva, London/Gatwick, Milan, Barcelona and Madrid.
By air to Santiago de Compostela: Santiago Airport (SCQ) is connected to Madrid, Barcelona, Amsterdam/Schiphol, Basel/Mulhouse, Barcelona, Brussels, Dublin, Edinburg, Frankfurt, Memmingen, Geneva, London, Milan/Bergamo, Bologna, Paris, Bordeaux, Marsella and Zurich.
About 50km from to Coruña, it's a good option if you have a direct flight, but requires to go to A Coruña from there. There are two options: by taxi or train.
Taxi (45 min).
Fare: around 80€
Payment method: Cash, credit card (ask beforehand), or book in advance.
Taxi (20 min) + Train (30 min)

Taxi from airport to train station: Fixed fare 21€.
Train from Santiago to A Coruña:
Fare depends on the schedule.
Payment method: Cash or credit card buying tickets at the train station. Or buy them in advance at refe.com or thetrainline.com.
(Warning: On Sunday's afternoons/evenings or Monday's mornings trains can be full so booking in advance is recommended).
By air to Porto (Portugal): Porto Airport (OPO) is connected to several big cities like: New York, Toronto, Montreal, Rio, Sao Paulo, Londo, Frankfurt, Helsinki, Paris.
Porto airport is about 300km away from A Coruña. The best option to go to A Coruña from here is by renting a car.
By train: Trains from Madrid-Chamartin station take about 4-5 hours. There are 2-3 direct trains a day, and more frequent connections with a change in Ourense-Empalme.
Train tickets to get to A Coruña are available from Renfe or thetrainline.com
By bus: Bus tickets to get to A Coruña are available from ALSA among other carriers.
Venue
The conference will take place at
Palexco Convention Centre
Muelle de Transatlánticos
15003 A Coruña
Spain

The conference will be placed in the 2nd floor of the building, in the Barlovento area. Our layout will consist in three areas: One big hall of 170 m2, another hall of 120 m2 and one hacking area of 60 m2.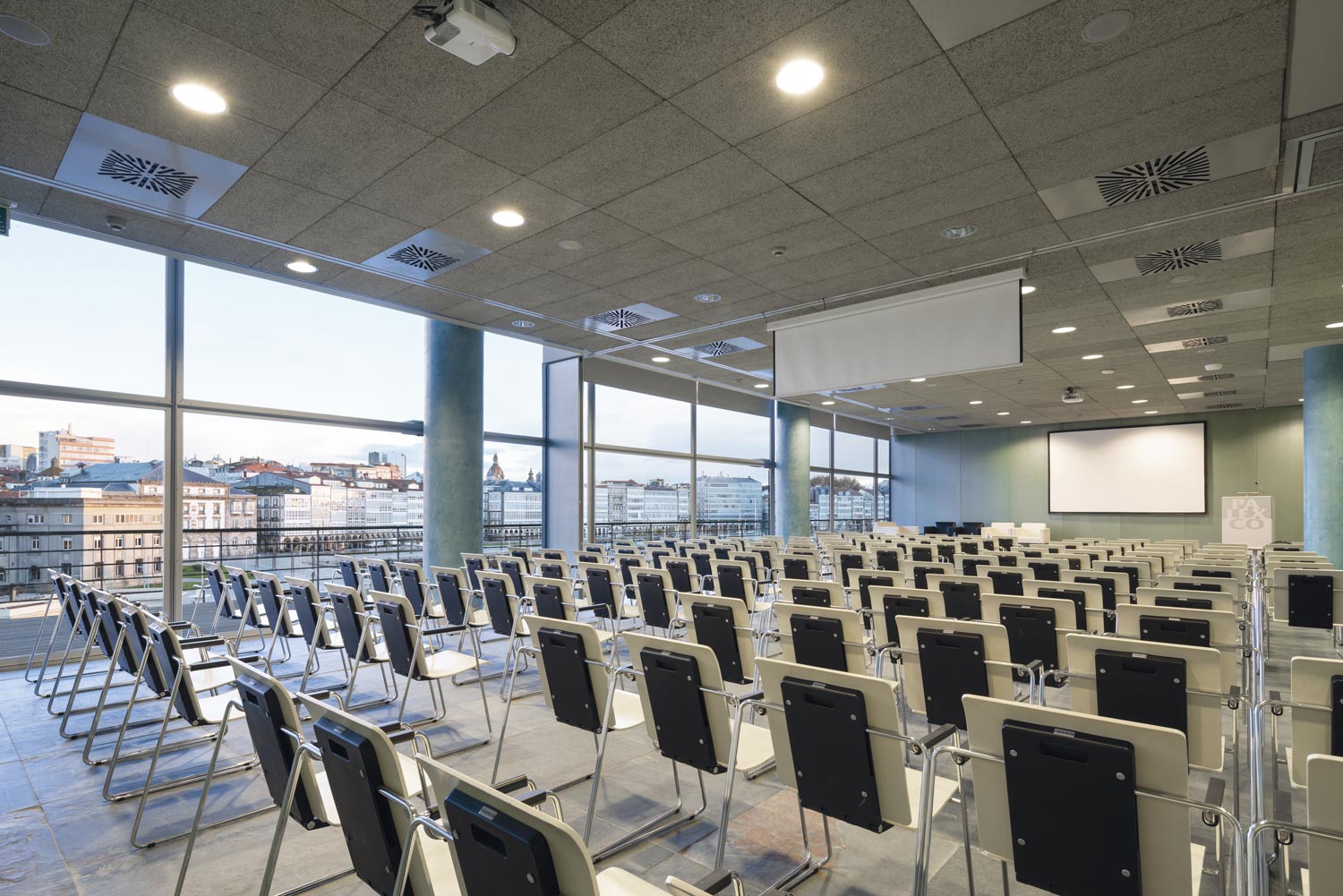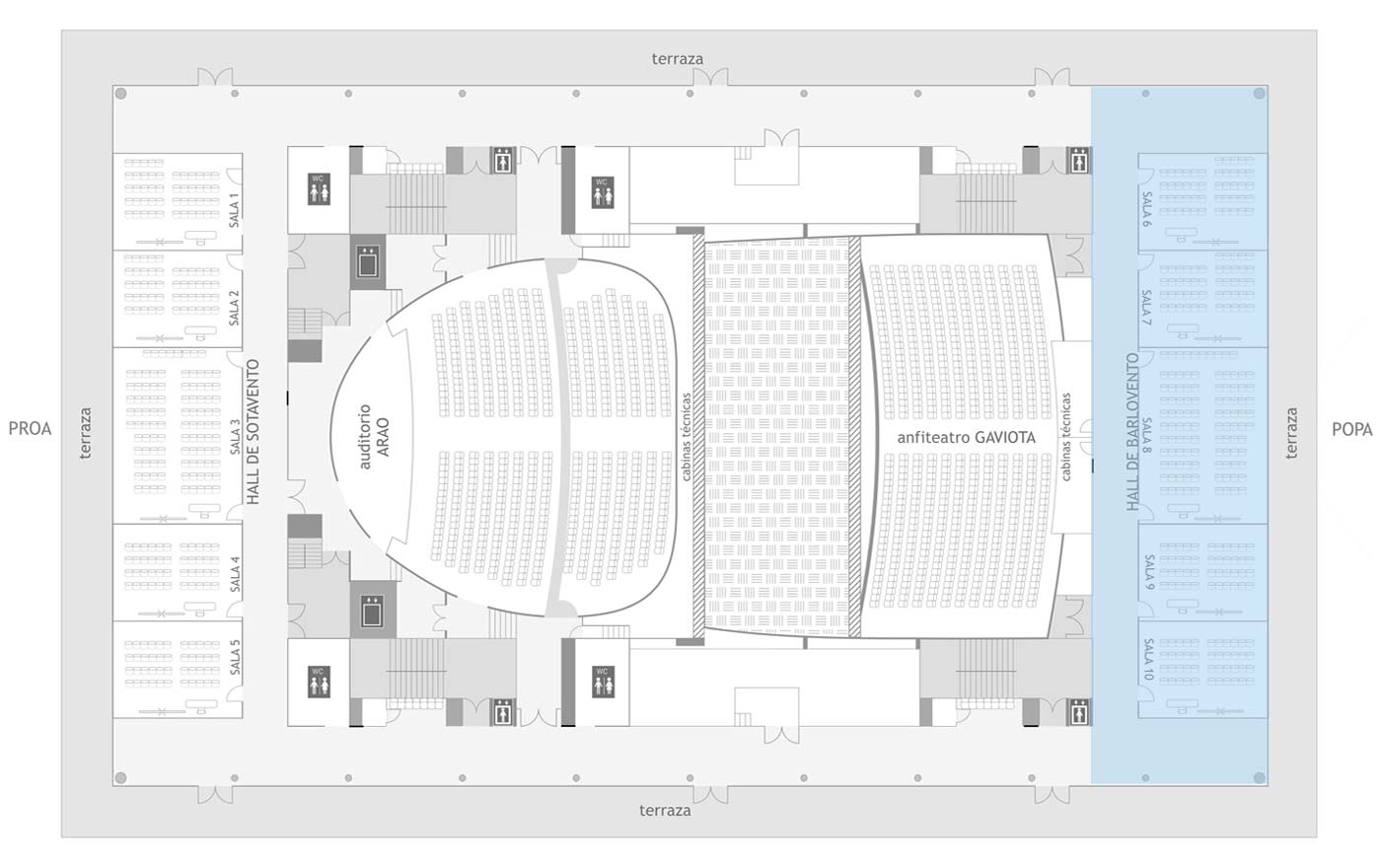 Hotels
There is no official conference hotel, but this is list of possible hotels, for your convenience, near to the venue:
Invitation Letter
If you need an invitation letter for visa application purposes, please get in touch.
Notes
Usual timetables. Lunch time: 13:00 - 15:30. Dinner time: 20:30 - 22:30. Note that you won't be able to find a restaurant open for lunch at 12:00 or for dinner at 18:00, neither at 19:00; thus you might want to start your day a bit "later" than usual. Main reason behind this is that A Coruña is in the same timezone as central Europe, and sunrise and sunset times are somehow shifted with regard to common standards in other parts of the world.
Language. The official languages in A Coruña are Galician and Spanish. Not everybody is able to understand or speak English (in the bus, taxi, hotel, etc). The GStreamer Conference is run in English.
Climate. A Coruña has a climate heavily moderated by the Atlantic Ocean. Average temperatures are around 10ºC (51ºF) in winter and 19ºC (66ºF) during summer. (See more info at Wikipedia).
Tourism. Tourism A Coruña website.
COVID-19 guidelines
The GStreamer Conference 2023 welcomes our community back to in-person events, whilst continue to prioritize the safety of our participants and staff.
The organizers of the GStreamer Conference 2023 continuously monitor local guidelines and regulations related with COVID-19. The changeable nature of the pandemic means regular updates to this policy may be necessary. We will inform registered participants about any substantial changes to this document.
By attending, you agree to abide by applicable Spanish regulations for indoor activities and GStreamer Conference 2023 health and safety rules, and to conduct yourself in accordance with all provided instructions. This will include, but is not limited to:
Refraining from coming to the event if you have COVID-19, its symptoms, or any other airborne disease.
Participants won't be required to wear masks unless that is required by spanish law at the time.
Respect personal preferences on mask wearing and physical distancing.
Code of Conduct and Anti-Harrassment Policy
Policy
The GStreamer project and the conference organisers are dedicated to providing a harassment-free conference experience for everyone. We do not tolerate harassment of conference participants in any form.
Harassment includes, but is not limited to, offensive verbal comments, sexual images in public spaces, deliberate intimidation, stalking, following, harassing photography or recording, sustained disruption of talks or other events, inappropriate physical contact, and unwelcome sexual attention. Participants asked to stop any harassing behaviour are expected to comply immediately. We expect participants to follow these rules at all conference venues, hackfest venues, and conference-related social events.
If a participant engages in harassing behaviour, the conference organisers and/or their delegates may take any action they deem appropriate, including warning the offender or expulsion from the conference. If you are being harassed, notice that someone else is being harassed, or have any other concerns, please contact a conference organiser or member of the code of conduct committee below immediately.
Reporting Breaches
Breaches of the code of conduct should be reported either by e-mail via code-of-conduct@gstreamer.org, or by contacting one of the following people:
Alicia Boya García (alicia)
Andoni Morales Alastruey (ylatuya)
Nirbheek Chauhan (nirbheek)
Tim Müller (__tim)
Xabier Rodriguez Calvar (calvaris)
See here for implementation details and guidelines.
This anti-harassment policy is based on the XDC 2023 code of conduct which in turn is based on the example policy from the Geek Feminism wiki, created by the Ada Initiative and other volunteers.
GStreamer Conference Contact
If you have any questions about the GStreamer Conference or are considering becoming a sponsor please get in touch.
Conference News and Updates
2023-September-16: The (preliminary) full conference schedule is now available as well
2023-September-16: Talk abstracts and speaker biographies have been published.
2023-September-15: Social events venue details have been added: Sunday Welcome Drinks/Food at Breen's Tavern and Monday evening Dinner/Drinks at Tira do Playa.
2023-September-15: Hackfest venue details have been added.
2023-September-06: The GStreamer project is excited to have Pexip return again as Platinum sponsor this year!
2023-August-28: The initial list of talks and speakers is now available. Abstracts and speaker biographies will be made available later.
2023-August-24: Speakers have been notified about their talk proposal(s)
2023-August-22: The call for papers is now closed, but lightning talks may still be submitted. Speakers will be notified shortly. Thank you to everyone who has submitted a talk. We have a phenomenal range of topics this year, stay tuned for updates.
2023-August-14: The GStreamer project is chuffed to see asymptotic join us as sponsor this year, at Silver level!
2023-August-11: We're very pleased to welcome RidgeRun as first-time sponsor, at Silver level!
2023-August-11: The GStreamer project is thrilled to see Laerdal Labs sponsor the conference for the first time this year, at Silver level!
2023-July-31: Registration is now open. Early-bird professional tickets are available until 20 August 2023.
2023-July-28: Added a Code of Conduct and Anti-Harassment Policy.
2023-July-27: The GStreamer project is excited to see Fluendo sponsor the event as Platinum sponsor this year!
2023-July-27: The GStreamer project welcomes back Centricular as Gold level sponsor this year.
2023-July-20: The GStreamer project is thrilled to have Collabora back as a Platinum sponsor this year!
2023-July-18: Added some COVID-19 guidelines and what to expect, also more info about the rooms and conference facilities.
2023-July-13: The GStreamer project is excited to see Zeiss sponsor the conference as Silver sponsor again this year!
2023-July-10: The Call for Papers is now open, please submit your talk proposals now!
2023-July-07: The GStreamer project is excited to have Axis Communications sponsor the conference for the first time this year, at Gold level!
2023-July-07: An updated Sponsorship brief PDF has been uploaded to fix rendering issues on Apple devices.
2023-July-05: We're thrilled to see Igalia return as sponsor at Platinum level this year!
2023-June-28: UbiCast is welcomed back as special media partner who will again record and live stream talks and lightning talks
2023-Jun-27: Added list of hotels and transport options.
2023-Jun-27: Sponsorship brief available
2023-Jun-14: Venue announced: Palexco Convention Centre, A Coruña, Spain.
2023-Jun-14: Initial announcement.
Past GStreamer Conferences